Words by Gabrielle Blumenthal
Remains

is a 40-piece sculpture series of fossilized, found surgical masks. For the series I will spend a total of one year collecting discarded masks that I will dip in stoneware clay slip and "burn out" in the forms that I found them in, leaving only a relief or hard shell. It feels as though I'm collecting a new kind of human remain, each mask a shadow of its original owner.
When the Coronavirus pandemic first hit New York, you couldn't walk down the street without hearing any number of strangers echoing one another in whispers of fear. Soon the streets were empty all-together. But New Yorkers are, if anything, resilient. Today, the block I live on has transitioned to accommodate a public square flocked with outdoor diners. With the increased amount of public activity came a massive amount of litter. Right away I began noticing discarded medical masks strewn about the side-walks, streets, and local parks.
A discarded mask is the sign of someone's perceived comfort amid an invisible threat. The series will serve as documentation that speaks to history and individual experience, anchored in time and place, reminiscent of the remains at Pompeii or the shoes of Auschwitz-Birkenau.
This is a project coming from what was called "the epicenter", must unfold here. This series will serve as a record, a testament to the fragments of our current fractured reality.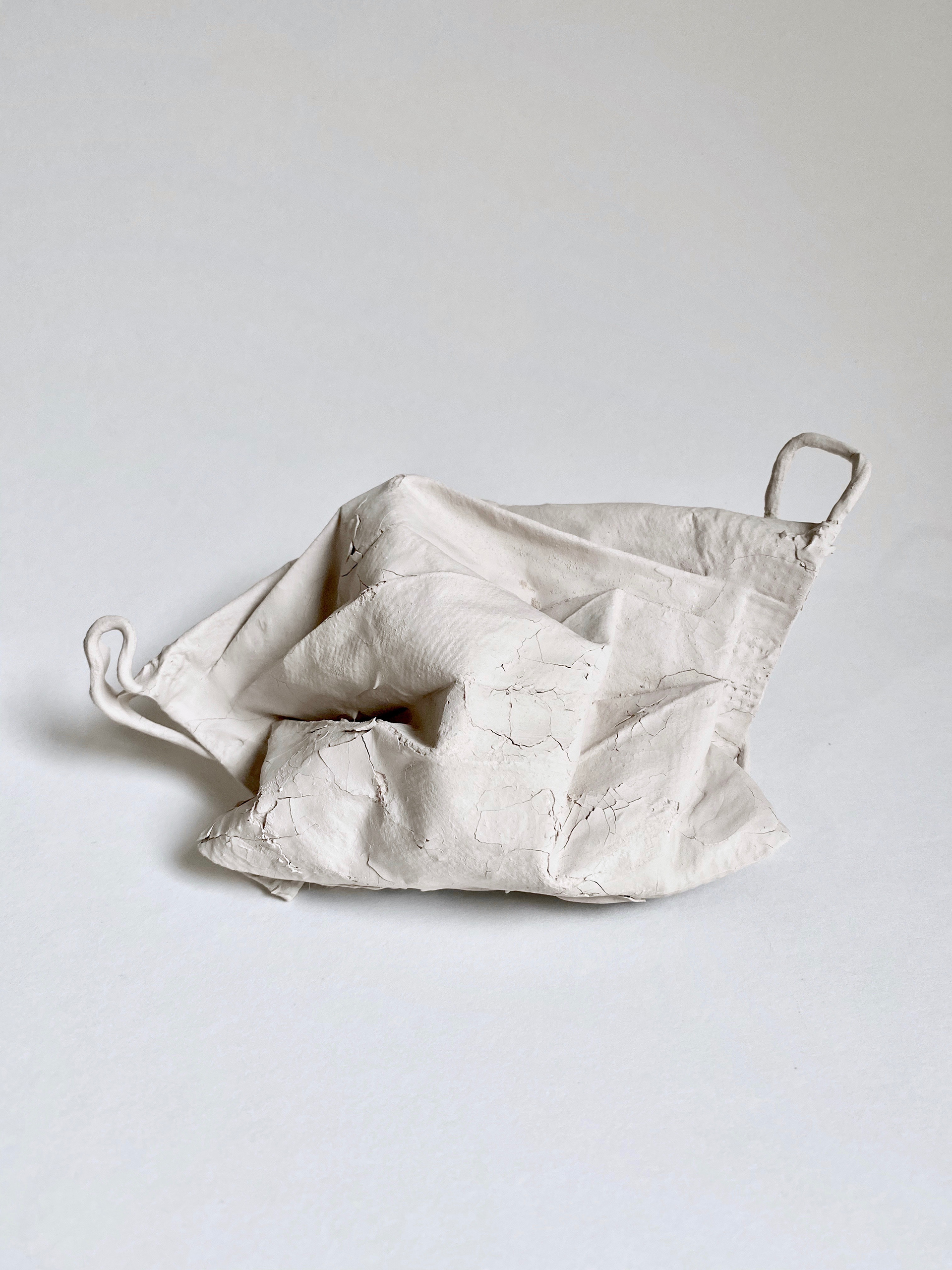 "I am a ceramic sculptor and installation artist facilitating and documenting stages of collapse in once functional objects. I use clay to annunciate warped, discarded, and crumpled qualities in an expression of the elasticity and fragility of life mimicked in the material. In my practice I employ experimental and traditional methods of ceramic practice including but not limited to slip-casting, wheel throwing, 3D printing, hand building, and kiln burn out. I examine the ways in which material can function as language, the application of that material as revealing as tone of voice.
As a collector, I am fascinated by fossilization and the idea of frozen time, a cycle mid-rotation. I'm inspired by abandoned, alien objects, and forms as simple as a piece of paper, a plastic bag or a wilting plant. My work continues exploring the relationship between form and narrative. The push and pull between the will of the object versus the integrity of the material serves as a vehicle to warp our immediate understanding, decontextualize the object, to "other" and distort the familiar so that it may be interpreted in a new light. My work functions as an act of translation between the formal characteristic of an object and our ability to create a perception of its place in time, history, culture. Clay allows me to tell a story reframed from the perspective of the decaying thing itself. "
​​​​​​​